Many people have come to notice the uniqueness and elegance of metallic epoxy floors from images in the internet or in showrooms and restaurants. Most of them have always been intrigued of the materials that have created such amazing floors.
How Metallic Epoxy Floors Work
Metallic epoxy floors are created with low yellowing epoxy mixed with glitter-like metallic pigments.
Metallic pigments are mixed with the epoxy resin and then poured on the concrete floor.
When a roller, paintbrush or squeegee gets into contact with the metallic pigments, they come together, separate, turn and twist and light reflects at different angles.
When the epoxy material hardens, the metallic pigments get locked in place producing a 3-dimensional and swirly appearance.
GET A NO OBLIGATION
FREE QUOTE
Fill out this form and someone from our team will reach out to you shortly.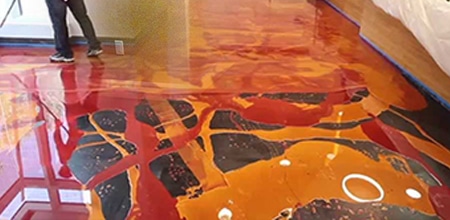 Our installers are well-experienced in metallic epoxy floor application to achieve your desired look. We use different techniques to manipulate the concrete surface to create different effects.
The techniques we use determine the final appearance of the floor. We only use 100% solid epoxy products to achieve the best results. There will not be two metallic floors that will look alike.
We use special additives and pigments to create various 3-dimensional visual effects including:
Ripples or two-toned swirls to create a three-dimensional water effect.
Metallic and satin-like finish.
Bold patterns to mimic the look of moon craters or galaxies.
Glitters or quartz-like chips or flakes.
Multi-colors to reflect the look of polished marble.
Regular epoxy is a mixture of equal parts of a resin and hardener applied over concrete floors and left to cure to create a strong and durable flooring system.
Metallic epoxy requires the artistry of the epoxy installer to capture the true essence of concrete floors to create a unique one-of-a-kind flooring system.
Installation of regular epoxy flooring should be preceded by proper preparation of the concrete surface to get rid of dust, dirt, grime and old coatings as well as to repair concrete imperfections such as chips and cracks.
Imperfections in the concrete surface do not need to be repaired prior to metallic epoxy flooring installation. These imperfections can in fact add extra details to the resulting work of art. The concrete surface should however still be cleared of dust, dirt, grime and old coatings. If the cracks and chips are not to be part of the artwork it should be filled to create a smooth surface.
Metallic epoxy is ideal for use in areas where a unique flooring system is desired. Residential interiors, auto showrooms, bars, restaurants, retail establishments and even garage floors can benefit from the unique and alluring look of metallic epoxy floors.
Benefits of Metallic Epoxy Floors
When talking about metallic epoxy floors, we refer to flooring systems that are a combination of aesthetic appeal and durability as well as many other benefits.
Aesthetic Appeal
Metallic epoxy creates floors with three-dimensional effects. The natural flow of the concrete surface reacts with the pull of gravity to create beautiful floors with unique color disbursements.
Unique Design
Metallic epoxy creates unique one-of-a-kind flooring systems. There are no two metallic floors that look exactly the same even when applied by the same expert installer.
Maximum Durability
Metallic epoxy floors are one of the most durable flooring systems available. This flooring system can handle heavy foot and vehicle traffic as well as impact from dropped heavy objects. When properly applied this flooring system can also withstand heavy torture from heavy machinery, oil, gas and chemical spills.
Easy to Clean and Maintain
Homeowners and business owners can appreciate the fact that this flooring system is easy to clean and maintain to keep it looking sparkling and bright at any time. This flooring system does not need to be polished or waxed and all that is needed to keep it looking amazing at all times  is a dust mop, wet mop and soft bristled broom.
Highly Affordable
A durable, long-lasting and beautiful flooring system does not need to high in cost. While we use only industrial grade epoxy products and our epoxy installers are highly trained and experienced, our installation costs are highly affordable. The fact that this flooring system has a long lifespan makes it even more affordable and low in cost in the long term.
The most important thing to remember about metallic epoxy floors is the fact that the final result will only be as good as the artist – in this case the epoxy installers. Our expert installer will treat your floor as a huge canvass to create a magnificent work of art. If you want jaw-dropping beautiful and unique metallic epoxy floors, Contact us now for a FREE estimate.