Putting in a new flooring system can give your home or business a much needed facelift. Stained concrete is one of the most considered options when deciding to give concrete floors a new look.
Concrete floor designs have been used in many home and business for centuries due to its durability, ease of application and low cost in comparison to other flooring options. Concrete staining is currently one of the most used methods to improve concrete floors instead of replacing the entire flooring surface.
Stained concrete flooring is a convenient and easy option to apply multiple shades to deliver the look of natural stone, multi-colored flagstones or any type of stone for both indoor and outdoor spaces.
The combination of colors and application techniques on the concrete surface make our stained concrete flooring appealing to many homeowners, architects, interior designers and builders.
GET A NO OBLIGATION
FREE QUOTE
Fill out this form and someone from our team will reach out to you shortly.
How Stained Concrete Works
The application of concrete stain is a coloring process that involves a chemical reaction with the concrete surface. A solution of acid, water and inorganic salts react with the alkali content of concrete to create a beautiful and permanently colored concrete surface.
The cost of staining concrete floors depends on the complexity of the job. Factors affecting cost include:
Number of stain colors to be applied. Applying a single colored stain will cost cheaper than the applying multi-colored stains.
The scope of concrete surface preparation.
Complexity of the application.
Size of the area.
No matter how much you invest for stained concrete application, you will be investing in a flooring system that is beautiful, durable and will last for decades with barely the need for repairs and replacements.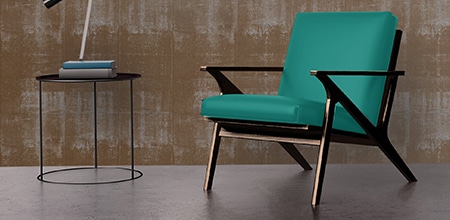 Benefits of Stained Concrete Floors
Stained concrete offers a lot of practical benefits making it a popular option in transforming dull and boring concrete to more durable and aesthetically beautiful concrete flooring.
Superior Durability
Acid stains do not wear out. They create a finish that is resistant to ultra-violet light. It is inflammable and will not fade, discolor, peel or chip.
Enhance Aesthetic Value
Concrete stains are available in a wide array of shades including pastels, neutrals and deep tones. Our expert installers can also infuse some visual effects such as waves, swirls, or stenciled designs.
Concrete staining can simply be a simple upgrade from a dull and boring concrete or it can be a focal point of your home and business flooring that attracts the most attention.
Offers a Wide Range of Design Options
Concrete staining offers a wide range of design options that can make concrete floor look artistic and stylish. For a more natural look stained concrete can be made to look like quarried stone.
We can combine colors, add etching and patterns in the concrete surface to create a customize look to suit different design preferences.
Can be combined with Other Floor Finishes
We can apply concrete stains before the concrete polishing process to create a durable high-gloss finish that is ideal for high-traffic areas. Clear urethane coating can be added to protect the concrete floor from abrasions and spills.
Water Resistant
Properly applied concrete stains can make the concrete floor highly resistant to water.
Highly Economical
Concrete staining makes use of the existing concrete floor to create more attractive concrete flooring. It is less costly than installing hardwood, laminated wood or covering the concrete floor with carpet.
Hypoallergenic
Applying concrete dyes means no more allergens can thrive on the concrete flooring. Simple and regular cleaning can easily keep dust at a distance to provide an allergen-free environment.
Easy to Clean and Maintain
Opting for stained concrete means no more heavy washings and scraping of the concrete floor. Cleaning is quick and simple with a broom or damp mop because this flooring system does not gather dust as much as carpets do.
Stained concrete can be feasibly applied in the home as well as in commercial establishments and industrial facilities such as:
Home Garages
Home interiors
Patios, Entranceways and Pool Decks
Retail Establishments
Restaurants and Hotels
Auto Showrooms
Offices
And more
We are the experts when it comes to stained concrete. We can skillfully use concrete stains as a coloring medium to add exceptional beauty to concrete floors. Acid stains which are in fact acid coloring solutions react with the concrete surface to create coloring effects in various hues to resemble natural stone or even weathered leather.
The beauty and elegance as well as the durability of concrete staining are dependent on the state of the concrete surface as well as the stain application methods.
Stained concrete offers endless advantages and possibilities to your home and business. if you want to learn more about staining concrete, Contact us now and we will gladly be of service.