The Best Polished Concrete Floors In Atlanta, GA!
Polished concrete is fast becoming a popular alternative flooring system to granite, marble, tile, linoleum and even coated concrete. The appeal of this no-wax flooring system is fast becoming extremely popular to homeowners and business owners.
With the latest advances in concrete polishing technologies and techniques we are today grinding old and new concrete floors to create a high-gloss finish that does not require any additional coating or waxing.
Polished concrete floors are created by adding chemical densifiers to the concrete floor to fill in pores and holes. The concrete floor is then ground using diamond polishing tools. We progressively use finer diamond polishing tools to achieve the smoothness and level of sheen you want to achieve with your concrete floor.
GET A NO OBLIGATION
FREE QUOTE
Fill out this form and someone from our team will reach out to you shortly.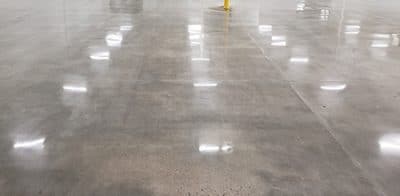 Does your Home Or Business in Atlanta Deserve Polished Concrete Floors?
A polished concrete floor is your best option when you want to achieve these characteristics with your concrete floor:
A seamless flooring system that is resistant to dust, dirt, molds, mildew as well as staining.
A smooth and stylish flooring system that can match the minimalist theme of your home.
A non-slip flooring system. Despite having a certain level of sheen, this flooring system has non-slip properties.
An easy to clean and low maintenance flooring systems. This flooring system is ideal in areas that have high levels of foot and vehicle traffic because of quick and easy to keep clean.
A flooring system that holds and absorbs heat.
Check your preferences to determine if polished concrete matches your need and preferences.
Polished concrete is achieved by grinding the concrete surface with grinding machines that come with diamond tool attachments. Grinding is done to expose the aggregates to achieve the desired finish.
Benefits of Polished Concrete
Polished concrete is fast becoming a flooring system of choice because of the many benefits it offers:
Level of Sheen
The finish of this flooring system is achieved through a multi-step process thus the level of sheen desired can be determined ahead of time. The level of sheen ranges from matte finish to a high gloss finish. Cut glass and colors may be added to enhance the aesthetic look.
Matte finish. Enhances natural tones of the concrete surface.
Low gloss finish. Similar to a matte finish but with a sleek appearance. Absorbs some light for some light reflectivity.
High sheen finish. Provides some light reflectivity to increase lighting.
High gloss finish. Resembles the look of glass and provides high light reflectivity.
Aesthetic Appeal
After the grinding and polishing process, the concrete surface can mimic the look of marble or terrazzo floors.
Durable and Resilient
Polishing concrete makes it denser, stronger and more durable making it an ideal flooring option for commercial establishments, industrial facilities and busy homes. It is also highly resistant to oil, grease and chemical stains.
Wide Range of Design Options
This flooring system comes with endless choices of colors and textures. It can mimic the appearance of costlier flooring options such as natural stones. Stenciled graphics and decorative engravings can also be incorporated for added aesthetic appeal.
Hypoallergenic
The polishing process creates a flooring system that reduces the growth of dust mites and molds making it a hypoallergenic flooring system.
Low in Maintenance
This flooring system does not need to be regularly waxed to keep its luster. Wet mopping and then buffing with a dry cloth is all that is needed to maintain the sheen of the high gloss finish.
Safe
This flooring system has a high coefficient of friction allowing it to be a non-slip surface. The higher the level of sheen of the floor finish, the higher the anti-slip level.
Environment Friendly
This is the most environment friendly flooring option because it does not require the application of any materials. This flooring system is achieved by polishing the existing concrete floor. It also is no-wax flooring enhancing its carbon footprint.
Savings in Energy
The high gloss finish increases light reflectivity reducing the need for artificial lighting resulting in cuts to electric consumption.
Highly Affordable
The many benefits that can be gained from polished concrete make it an affordable flooring option. The initial investment is not much but it comes with various long lasting benefits.
Long Life-Span
This flooring system comes with a 10 year or more life cycle when properly applied and maintained. This is approximately 60% longer than installing carpets or wood laminates.
Atlanta Uses Polished Concrete In All Of the Following Settings:
Retail stores
Auto showrooms
Hotels and restaurants
Office buildings
Warehouse
Hospitals and other health care institutions
Homes
Our highly skilled and efficient installers have mastered the use of modern polished concrete technologies to provide you with a flooring system with amazing finishes with high aesthetic appeal.
If you want your home or business to enjoy the benefits of polished concrete, Contact us now for a FREE estimate.